Real Estate/Property Measure & Calculation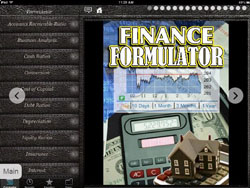 FORMULATOR combines a financial dictionary with financial calculator
The program contains over 70 useful financial calculation formulas. Each formula both calculates the entered values and explains the meaning and importance of those calculations. FORMULATOR includes calculation formulas used by consumers (e.g. mortgage and lease calculators), as well as formulas needed by financial analysts, (e.g. Acid Test Analysis, or a Z credit score analysis.)
Other areas of formulas found in FORMULATOR include: Insurance calculations, interest formulas, stock valuations, bonds, cash flow analysis and sales ratios, investment formulas, debt ratios.